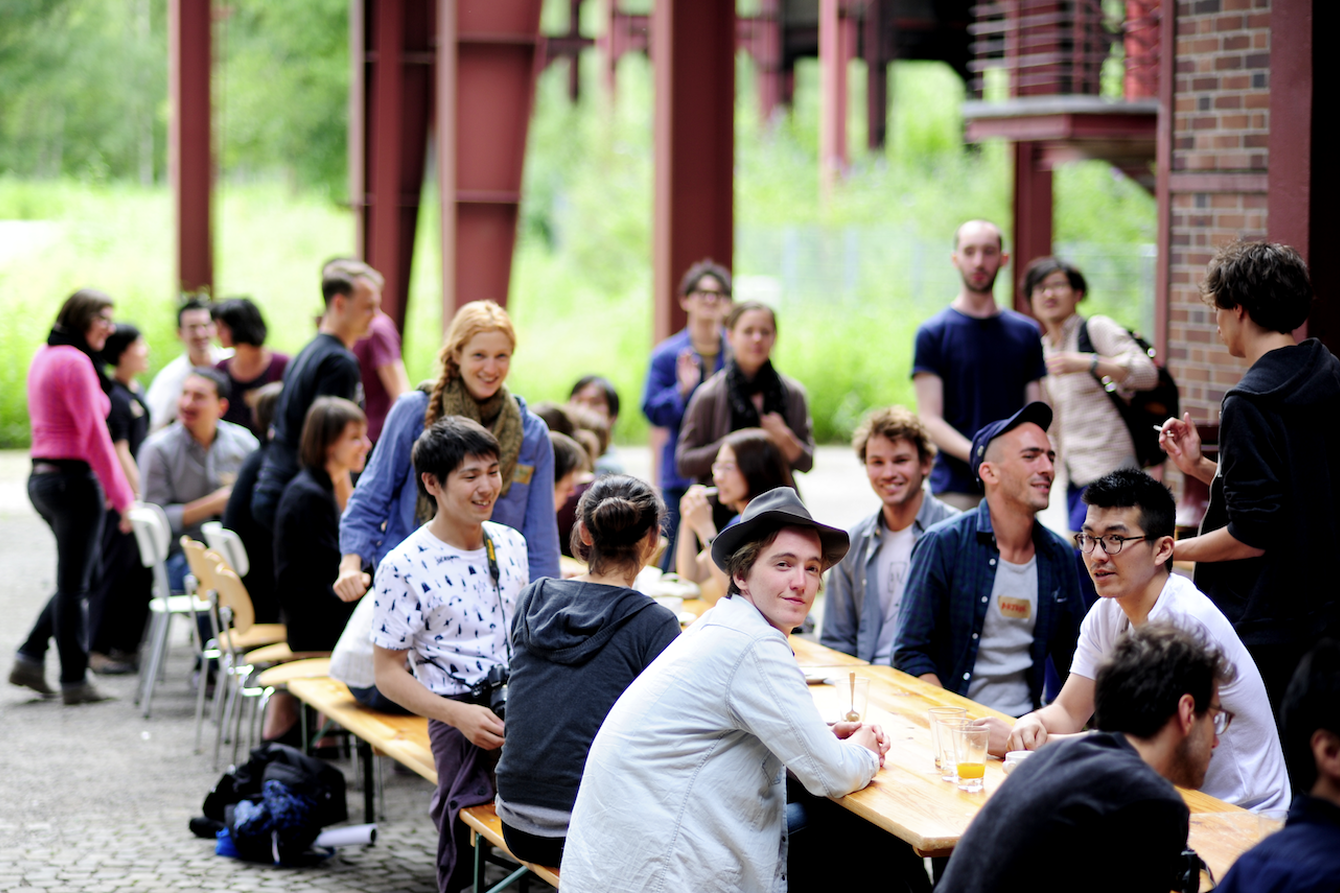 Feldstärke International 2014

Interdisciplinary platform
for arts schools and
academies in NRW
Feldstärke International 2014 took place in June/July 2014 in Essen and Marseille, and September 2014 in Kyoto. 30 participants, 10 each from Germany, France and Japan, met for three week-long working phases in Essen, Marseille and Kyoto. Using a form of field research directly responsive to its location, the participants explored practical, intercultural and inter-disciplinary working methods, as well as urban, social, political and artistic contexts, in order to illuminate similarities and differences and open up unexpected perspectives on their own artistic strategies and those of others.
Patrons
Deutsche Staatsministerin für Kultur und Medien, Prof. Monika Grütters, as well as the French Minister for Culture and Communication, Aurélie Filippetti.
Acknowledgements
As well as to the participants and the teams at PACT, Montévideo and the Kyoto Art Center, we are grateful to our funders: Goethe-Institut, Kunststiftung NRW, Japan Foundation, Stadt Essen, Deutsch-Französisches Jugendwerk (DFJW), Kultur Ruhr GmbH, Ministerium für Familie, Kinder, Jugend, Kultur und Sport des Landes Nordrhein-Westfalen.
Public presentations
Mutsuro Ando: ›YUKIYAMA‹ (Performance)
Hikaru Okamoto: ›SASHI‹ (Performance)
Ingrid Berger Myhre: ›CURRENT‹ (Performance)
Moeko Machida: PERFORMANCE
Gregor Daronian: PERFORMANCE
Daniel Chagnon / Laura Susanna Burgener, PERFORMANCE
Ae Ran Kim: ›DER ERZÄHLER‹ (Performance)
Rémi Chaudagne: GRAPHIC: ›TRACKING PROJECT‹ (Graphic)
Arthur Eskenazi: ›LA PREMIÈRE PIERRE‹ (Video)
Sigurdur Atli Sigurdsson ›SOME OBJECT ACCOMPANIED BY A GESTURE THAT PORTRAYS LEFTIST HUMANIST, EGALITARIAN NOTIONS ON EMANICPATION AND THROUGH SOME CONCEPTUAL ALLEGORICAL TWIST GETS YOU THINKING ABOUT THE VASTNESS OF THE UNIVERSE AND TIME.‹ (Performance)
Susanne Griem: VIDEO
Fabian Heitzhausen: ›LET'S PLAY MODERNISM‹ (Video)
Ae Ran Kim: ›HUDSON RIVER‹ (Video)
Laura Burgener: ›MARKASIT‹ (Video)
Lyoudmila Milanova: ›THE SHORTEST WAY / LANDSCAPES‹ (Installation)
Mutsuro Ando: ›FUKURO‹ (Videodokumentation)
Natsuki Maeda: ›VIBRATION/EXERCISES (Video)
Akihiro Sakaguchi: INSTALLATION
Daisuke Shibata: PHOTO DOCUMENTATION
Gregor Daronian: PERFORMANCE
Célia Hay: ›DÉCLIVITÉ‹ (Video)
David Merlo: ›VARIANCE III‹ (Instrumental Installation)
Guillermo Moncayo Barbosa: VIDEO
Marie Sommer: ›AN ISLAND‹ (Video und Fotografie)
Sigurdur Atli Sigurdsson: ›ARCHIVE OF FOUND DRAWINGS‹ (Installation)
Marcus Becker: ›CHECKSUM ERROR‹ (Fotografie)
Almut Pape: ›EINB.- SPRACHVERSUCHE‹ (Performative Installation)
Thomas Reul: ›LIGHT BUBBLE‹ (Video)
Taro Aoyama: ›TROPE‹ (Videodokumentation)
Kosuke Hashizume / Kohei Suzuki: ›OBJECT IS N•O•W•H•E•R•E‹ (Installation)
Kanari Shirao: ›1=40*60=2400<3600‹ (Soundinstallation)
Participating universities
Nordrhein-Westfalen
Fachhochschule Dortmund
Folkwang Universität der Künste Essen
Ruhr-Universität Bochum
Hochschule für Musik und Tanz Köln
Kunsthochschule für Medien Köln
Kunstakademie Münster
Kunstakademie Düsseldorf
Universität Witten/Herdecke
France
École Nationale Supérieure de la Photographie Arles
École Régionale d'Acteurs de Cannes
École Supérieure d'Arts et de Design Marseille
Villa Arson, Nizza
École Nationale Supérieure d'Architecture de Marseille
Formation  Ex.e.r.ce du Centre Chorégraphique National de Montpellier / Université Paul Valery
École Nationale Supérieure de Paysage de Versailles, Marseille
École Supérieure d' art d'Aix-en-Provence
Japan
Kyoto City University of Arts
Kyoto Institute of Technology
Kyoto Saga University of Arts
Kyoto Seika University
Kyoto University of Art & Design
Seian University of Art and Design
Participants
from Nordrhein-Westfalen
Marcus Becker, Laura Susanna Burgener, Daniel Chagnon, Susanne Songi Griem, Fabian Heitzhausen, Philine Herrlein, Aeran Kim, Lyoudmila Milanova, Almut Pape, Thomas Reul
from Marseille
David Merlo, Rémi Chaudagne, Gregor Daronian, Arthur Eskenazi, Ingrid Berger Myhre, Guillermo Moncayo Barbosa, Marie Sommer, Célia Hay, Sigurdur Atli Sigurdsson, Anne Corte
from Kyoto
Kohei Suzuki, Mutsuro Ando, Taro Aoyama, Hikaru Okamoto, Natsuki Maeda, Kanari Shirao, Akihiro Sakaguchi, Daisuke Shibata, Moeko Machida, Kosuke Hashizume