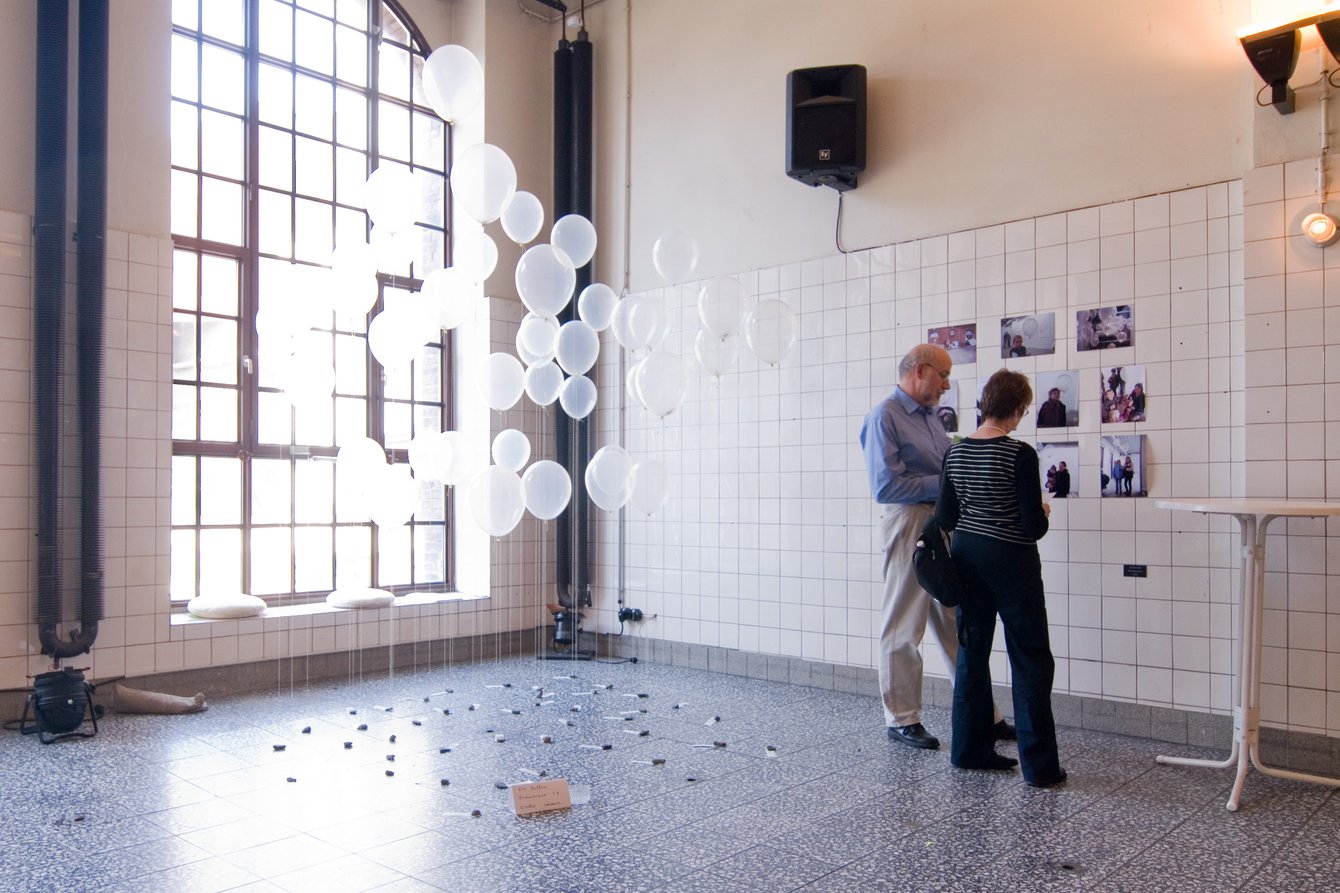 FELDSTÄRKE 2008

INTERDISCIPLINARY PLATFORM FOR ARTS SCHOOLS AND ACADEMIES IN NRW
FELDSTÄRKE 2008
feldstärke, the interdisciplinary platform for arts schools and academies, was held for the fourth time at PACT Zollverein from 29.05. – 01.06.08.
PARTICIPANTS
50 students from the
Fachhochschule Dortmund (Communications Design - Photo and Graphic Design Departments)
Kunstakademie Düsseldorf (Sculpture classes Prof. Martin Gostner and Prof. Thomas Grünfeld)
Folkwang Hochschule Essen (Dance Department and Communications Design – Art and Design, Photography Departments)
Institute for Computer Music und Electronic Media (ICEM) of the Folkwang Hochschule Essen
Hochschule für Musik Köln (Dance Department)
Kunsthochschule für Medien, Köln
Kunstakademie Münster (Photography class Prof. Daniele Buetti, Sculpture class Prof. Maik Löbbert and Prof. Dirk Löbbert, Performance and Field Studies class Prof. Dr. Lili Fischer, Painting class Prof. Cornelius Völker)
›feldstärke 08‹ comprised of an internal programme for the participating students and numerous events open to the general public.
PUBLIC PROGRAMME
The public programmes on the first and last evening of ›feldstärke 08‹, gave the general public opportunity to view an extensive self curated exhibition of the students' work as well as live performances. As in previous years, PACT Zollverein placed the whole building, including changing rooms, showers, hallways and winter garden, at the students disposal for their exhibition.
On the first evening the open event included the performance ›Reportable Portraits‹ from deufert +plischke (D).
PARTICIPANTS EXHIBITION - PHOTOGRAPHY / INSTALLATION / FILM / VIDEO / GRAPHICS / PAINTING / MIXED MEDIA / PERFORMANCE / SOUND ART / SCULPTURE:
Jeannette Schnüttgen, Johanna Flammer, Hanna Lina Meiners, Antje Spohr, Julia Zinnbauer, Axel Braun, Felix Gienger, Christoph Esser, Marita Bullmann, Colin Penno, Philip Ullrich, Isabel Hernandez, Julia Reschucha, Christoph Neumann, Anneke Dunkhase, Dorit Eichmann, Jörg Jäger, Cordula Jäger, Marc Hinz, Michael Thieme, Human Shargi Namin, Tim Cierpiszewski, Kinuko Hirano, Soo-San Lee, Britta Thie, Vladimir Dosenovic, Hans Diernberger, Artur Holling, Carolina Laura Kot, Daniela Risch, Katia Sepúlveda Barra, Ruth Schultz, Kerstin Ohlendorf, Ramona Suresh, Moritz Fleiter
STAGE PROGRAMME – DANCE / CHOREOGRAPHY:
Fernanda Lima, Hannah Dewor, Sarah Hollstein, Annika Wiesner, Bettina Nampé, Corinna Didjurgeit, Photini Meletiadis, Daniel Müller, Simon Hartmann, Tim Gerhards, Remo Jost, Judit Abegg, Yu-Husuan Wei
CONCERT – ICEM:
Florian Hartlieb, Jonas Förster
INTERNAL PROGRAMME
WORKSHOP PART 1: LED PRACTICAL EXPERIENCE
The first internal working day was led by Kattrin Deufert and Thomas Plischke (deufert +plischke, www.deufertandplischke.net) who gave a workshop.
WORKSHOP PART 2: INDEPENDENT PRACTICAL EXPERIENCE
On the second day the students worked independently in small mixed disciplinary groups on the theme of "Accident".  They presented their results that evening in the form of (crossmedia-) performances, videos and installations.
RESUMEE
feldstärke's strength and quality proves to be twofold. On the one hand, it lies in the chance to offer students from different disciplines a communal place to get to know each other and work together; a place for exchange and debate, reflection and discussions about their own and unfamiliar working practices, about their own media in the context of other disciplines, about similarities and differences in various forms of art education, production and assertions. It lies in challenging the students to get involved with the unknown in collaborative processes and to seize the opportunity of drawing on a multiplicity of approaches and ideas.
And on the other hand, ›feldstärke‹ gives students a chance to develop site specific works, undertake experiments and put their work up for debate in an environment that offers maximal freedom and openness and is, at the same time, secluded from pressures to perform associated with art institutions and the public eye.
We are delighted that as of now the ›feldstärke‹ project will incorporate international partners. Within the framework of the season France-Nordrhein-Westfalen 2008/2009, supported by the North Rhine-Westphalia state government, an edition will be held in January 2009 at the newly established CENT QUATRE, 104 (www.104.fr) in Paris. (Further information will be available on our website in the near future).