As part of the Ruhrtriennale
Thu 06.09.18

20 h

Fri 07.09.18

20 h

Sat 08.09.18

20 h

Sun 09.09.18

20 h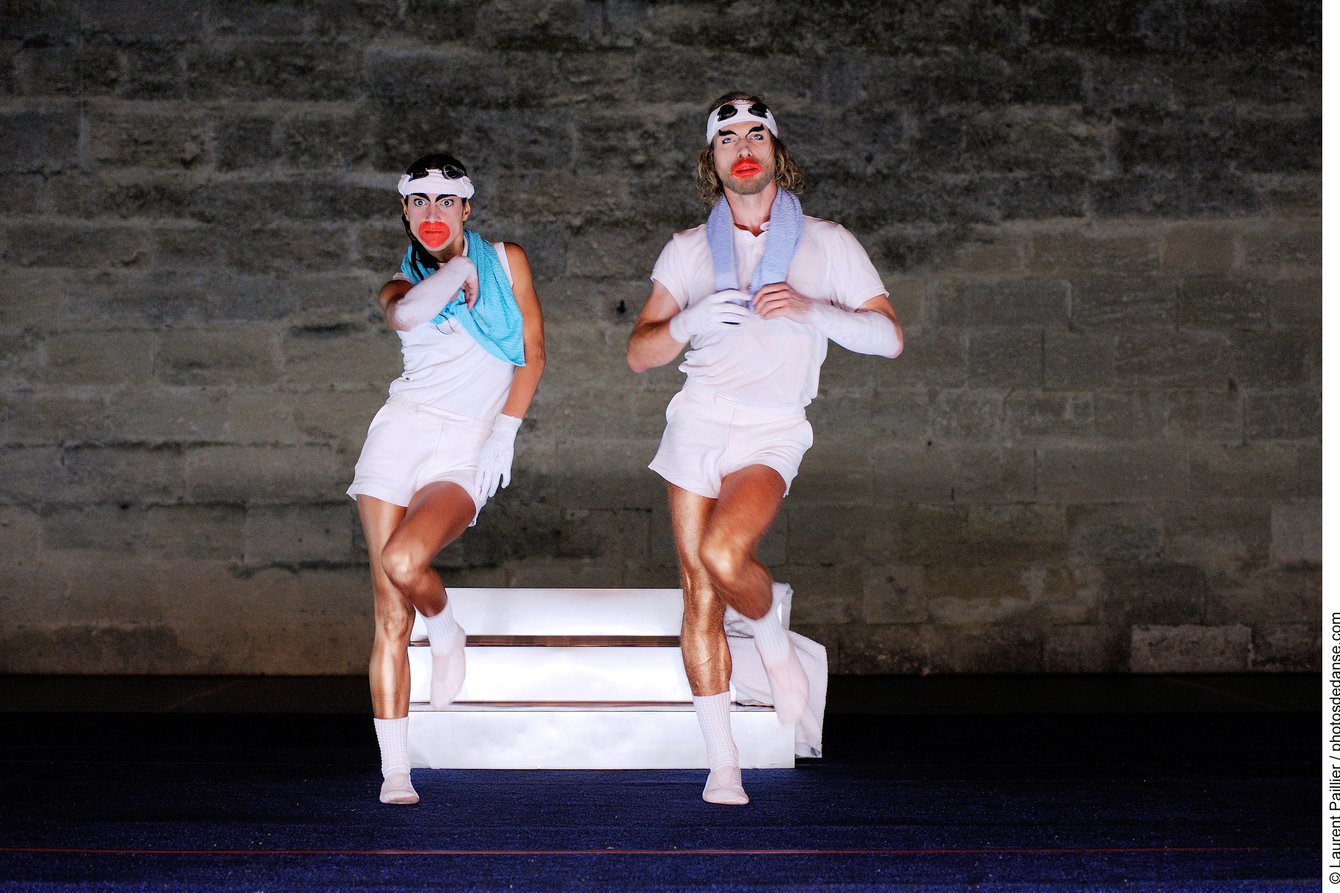 Introduction 45 minutes before the performance
Artist talk on 7 September following the performance
Tickets: 20-30 € / red. 10-15 €
Tickets: www.ruhrtriennale.de
There is no jaguar. Instead a larger than life blue polystyrene horse stands on the left edge of the stage from the start: for Jaguar  Marlene Monteiro Freitas was inspired by the Blaue Reiter group of artists along with carnival in her home, the Cape Verde islands, the tales of E. T. A. Hoffmann, the work of the artist Adolf Wölfli and her friend ship with the dancer and long-time companion Andreas Merk. Thisremarkable evening of dance Jaguar  is another that Marlene Monteiro Freitas has created together with him: two permanently grinning figures with giant clown mouths demonstrate an unbridled joy in the absurd,in distortion, the detachment of meaning and silent film comedy to music by Claudio Monteverdi, Arnold Schönberg, Igor Stravinsky and David Bowie.
With no more than a simple handkerchief as a prop, they continually find themselves in new and surprising situations, dancing and sweating cheerfully until they can go no further and failing to be put off by any of their neuroses and obsessions that come to light in the process. With shrill grimaces, burlesque contortions and acrobatic ambition they play a pair of lovers who eventually turn into Siamese twins underneath the handkerchief and produce a new variation on Gustav Klimt's kiss.
The winner of the Silver Lion at the Venice Biennale invents a unique aesthetic language here that is disturbing and humorous in equal measure. Jaguar  is a liberating celebration for its performers and audiences alike, performed as a great communal hunt: a hunt whose most attractive feature is that one never really knows exactly who is hunting who.
Choreography: Marlene Monteiro Freitas In cooperation with: Andreas Merk Performance: Marlene Monteiro Freitas, Andreas Merk Lighting design and space Yannick Fouassier Props João Francisco Figueira, Tiago Cerqueira Research João Francisco Figueira, Marlene Monteiro Freitas Production P.OR.K (Lissabon) Distribution Key Performance (Stockholm)
Hosted by PACT Zollverein for the Ruhrtriennale